By Bret Werb
In the spring and summer of 1943, a theater piece with a stellar cast and an urgent message scooped the daily press to bring news of the genocide of European Jews to a scarcely believing American public. Subtitled "A memorial dedicated to the 2,000,000 Jewish dead of Europe," We Will Never Die was the brainchild of the popular screenwriter Ben Hecht (1894–1964). Those unfamiliar with Hecht's name will probably recognize the titles of some of the more than 150 films to which he contributed: Scarface, Twentieth Century, Gone With the Wind, Notorious, A Star Is Born. i An ex-newsman who had lived the fabulous-gaudy life that a Chicago newsman of the roaring teens and '20s was supposed to have lived, Hecht had an insider's grasp of the popular media and the confidence and enterprise to challenge its priorities openly.
Born in New York City and raised in Racine, Wisconsin, Hecht, by his early twenties, was a star reporter for the Chicago Daily News. He spent time as a correspondent in Weimar Germany and as a litterateur in Manhattan before coming, at age 30, to Hollywood, where his facility with words assured him steady work and a staggering income. Soon after the start of the Second World War, however, Hecht's emerging sense of Jewish identity and his unblinking assessment of the Nazi racial agenda, along with a sense that his "easy" earnings from movie hackwork might somehow benefit mankind, combined to transform him into a high-level propagandist. His pet cause, the main beneficiary of his energy and polemical flair, was the Committee for a Jewish Army of Stateless and Palestinian Jews, whose leader, the militant Zionist activist Peter Bergson (1915-2001), would become a lifelong friend and mentor. ii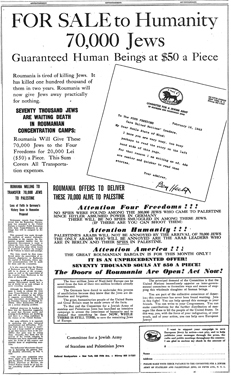 Figure 1: "For Sale To Humanity" (excerpt), New York Times, February 13, 1943. Hecht and Bergson placed this and similar ads in several U.S. newspapers. (David S. Wyman, America and the Holocaust, Vol. 2.) To see this image in bigger format, click here.
Birth of a Pageant
During the first months of 1943, although the United States had been at war for more than a year, Americans were skeptical—or else simply unaware—of the occasional, often well-buried news reports of the Holocaust that was already taking place. iii Among those with an entrée to mainstream media, Hecht alone seemed willing to articulate what others in the country could not or would not say: that the Germans meant to kill every Jew in Europe; that the Jews, a stateless people, could expect no special help from the Allies; and that the best hope for Jewish survival lay in Jewish self-defense.
In February 1943, Hecht's article "The Extermination of the Jews"—a dramatic recounting of Nazi horrors from the victims' point of view—appeared in The American Mercury. Abridged as "Remember Us," it almost immediately reappeared in the popular Reader's Digest. iv Hoping to capitalize on the publicity, Hecht convened a think tank at the Manhattan home of playwright George S. Kaufman. He related his account of this affair in his autobiography, A Child of the Century:
Thirty famous writers (and one composer) were assembled at George Kaufman's house by my friend, his wife Beatrice. All had written hit plays or successful novels. Put their names together and you had the box-office flower of American culture. In addition to success, wit and influence, they had in common the fact that they were all Jews.

I had said to Bea that thirty New York dinner guests might save the surviving four million Jews in Europe. The first massacre scores had come in: dead Jews—two million; anti-German-butchery protests—none.

I looked eagerly at the thirty celebrities in Bea's drawing room. Some were friends, some enemies. Some wrote like artists (almost), some like clodhoppers. Some were insufferably fatheaded, some psychotically shy. But such variation was unimportant. Bold, shy, Shakespeare or Boob McNutt—they had a great common virtue. They could command the press of the world.

What would happen if these brilliant Jews cried out with passion against the German butchers? […] I recited all the facts I knew about the Jewish killings. I said I felt certain that if we banded together and let loose our talents and our moral passion against the Germans we might halt the massacre. […]

There was no applause when I stopped talking. Not that I expected any. […] But the nature of the silence was revealed to me when a half-dozen of the guests stood up and without saying "Boo" walked out of the room.

"It looks like I struck out," I said to my hostess as the silence kept up. […]

In the vestibule, Beatrice said to me, "I'm sorry it turned out like this. But I didn't expect anything much different. You asked them to throw away the most valuable thing they own—the fact that they are Americans."

How argue with Beatrice, a fine woman with as bright a mind and as soft a heart as anyone I knew? How convince any of her high-falutin guests that they had not behaved like Americans but like scared Jews? […] Two of the thirty guests came into the vestibule to say good night to me.

"I thought I'd tell you that if I can do anything definite in the way of Jewish propaganda, call on me," said Moss Hart.

Kurt Weill, the lone composer present, looked at me with misty eyes. A radiance was in his strong face.

"Please count on me for everything," Kurt said. v
In Hecht's 1930s farce, Twentieth Century, an egomaniacal theater producer (played in the film by John Barrymore) proposed turning the Passion of Christ into a Broadway spectacular. And now, a decade later, Hecht - who, according to one of his newspaper cronies, "could make a breakfast egg seem theatrical" - took on a project no less imposing. vi Soon after the debacle at the Kaufmans', he resolved to take news of the mass killings straight to the American public. He would do so by means of a theatrical extravaganza: a pageant featuring stars of stage, screen, and radio, vast sets with striking scenery, an orchestra, a choir, and a cast (plus crew) of thousands. Incredibly, he delivered the goods within just over a month.
To see a video, click here.

With Moss Hart directing, Billy Rose producing, and a score composed and compiled by Kurt Weill, We Will Never Die opened for a single performance at Madison Square Garden on March 9, 1943. Twenty thousand seats swiftly sold out, and the show had to be repeated that same night, again to a full house, with sound piped outside the hall to accommodate an overflow crowd of perhaps twenty thousand more.
Hecht read in these figures "a hunger" on the part of Americans to "hear something that was not being spoken very loud in our country." viiWith New York governor Thomas Dewey having proclaimed March 9, 1943 a day set aside to "offer prayer to Almighty God for the Jews who have been brutally massacred," the show went on the road. viii On April 12 it was staged at Constitution Hall in Washington, D.C. Eleanor Roosevelt attended, as did hundreds of politicians and diplomats from more than forty nations. Two days later, Mrs. Roosevelt's impressions appeared in her widely syndicated newspaper column, "My Day."
The music, singing, narration and actors all served to make it one of the most impressive and moving pageants I have ever seen. No one who heard each group come forward and give the story of what had happened to it at the hands of a ruthless German military will ever forget those haunting words: "Remember us." ix
As with Hecht's Reader's Digest piece, this column by the First Lady spread the word to millions of heretofore uninformed Americans. During the following three months the pageant toured to packed venues in Philadelphia (where it featured Claude Rains and Edward Arnold), Boston (with Ralph Bellamy and Howard Da Silva), Chicago (with John Garfield and Burgess Meredith), and lastly, Los Angeles (with Edward G. Robinson and Edward Arnold). Total attendance topped 100,000, and the spectacle drew such widespread media coverage that Hecht would maintain that "the news and pictures of the pageant in the press" amounted to "the first American newspaper reports on the Jewish massacre in Europe."
x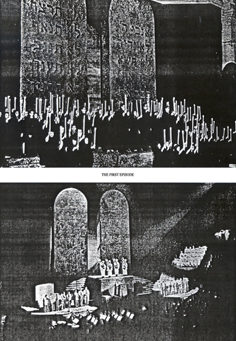 Figure 2. Scenes from the New York production. Ben Hecht, We Will Never Die (New York: Committee for a Jewish Army of Stateless and Palestinian Jews, 1943), facing p. 21. To see this image in a bigger format, click here.

The pageant's presentation at the Hollywood Bowl, on July 21, 1943, drew 10,000 spectators, among them California governor Earl Warren and a host of Hollywood celebrities and members of Los Angeles' elite. This performance, fortunately, has been preserved on a set of transcription discs made for radio broadcast in the Los Angeles area. (Never published, the discs were left by Ben Hecht's estate to the Newberry Library, Chicago. xi) Since most of the music manuscript to We Will Never Die has vanished, this recording may be as close as listeners today can come to experiencing this landmark stage production. xii
Audio 1: "Good evening, ladies and gentlemen"
Kurt Weill's Contribution
The pageant is a theatrical form in which music, while essential, is subordinate to a story-line meant to advance a political or cultural agenda and to rouse an audience to action. xiii Certainly the refugee Kurt Weill (1900–1950), a veteran of culture wars in Berlin and Paris, understood music's power as a bearer of propaganda and how it might underscore Hecht's narrative. He also knew that he had little time for crafting an original score, and in fact much of his work for We Will Never Die was cobbled together from preexisting compositions. Hecht streamlined Weill's task by scripting in cues for specific works of music (including Hatikvah, Kol Nidre and various national anthems); and Weill himself made effective use of familiar Jewish, popular and patriotic motifs. From his original work, Weill drew most freely on his score for Max Reinhardt's epic The Eternal Road, the pro-Zionist, anti-Nazi Broadway production that had first brought him to the U.S. in 1935. xiv
Weill, one of the best-known émigré composers active in New York in the 1940s, had arrived on the scene with a radical-leftist reputation. Yet Weill scholar David Farneth believes that this reputation was largely a result of the composer's artistic association in Germany with the bona fide revolutionary poet and dramatist Bertolt Brecht: Weill's "willingness to work on We Will Never Die," Farneth notes, "was probably motivated more by the plight of the Jews in Europe (to whom he had an intimate connection) than by a conviction to join Hecht in supporting Peter Bergson and the Committee for a Jewish Army." xv (Ben Hecht, however, had little doubt where the composer's sympathies lay; in his autobiography, Weill's photo is captioned "Irgun Comrade." xvi)
Certainly Weill had supported efforts, pre–Pearl Harbor, to urge U.S. entry into the war. In 1941 he contributed the score to Fun to Be Free, a pageant by Ben Hecht and Charles MacArthur, which was also staged at Madison Square Garden. The next year, at the request of the Office of War Information, he wrote and - with his wife, Lotte Lenya - recorded a set of anti-Nazi propaganda songs for shortwave transmission to Germany. Further patriotic efforts included incidental music for the radio program Your Navy (1942); folksong settings for the melodrama Mine Eyes Have Seen the Glory (1942); and, again for the Office of War Information, the score to Jean Renoir and Garson Kanin's propaganda film, Salute to France (1944). xvii Even after the German defeat, Weill continued to support Hecht and Bergson's radical program for Jewish survival by teaming up with them again for A Flag Is Born, a propagandistic theater piece (featuring a young Marlon Brando) that opened on Broadway in 1946. He then toured the USA with the express aim of raising funds to break the British blockade of Palestine and of helping the illegal transport of Jewish Displaced Persons to Palestine. xviii
Franz Waxman's Contribution
Early in 1943, as Hecht pounded out his urgent copy, Jews inside the Warsaw Ghetto were plotting an armed rebellion against their German captors. The uprising began in earnest in April 1943, while We Will Never Die was on tour, and by the time the pageant reached its final destination in Hollywood that summer the revolt had already been brutally suppressed. xix But Hecht meanwhile seized on the news and managed to interpolate a new section containing some of his most impassioned dramaturgy and inspiring some of the pageant's best music. It should be noted, though, that the music for this section, entitled "The Battle of Warsaw" and featuring the choral song "Battle Hymn of the Ghetto" was not composed by Kurt Weill. Rather, it represents an original contribution to the pageant by its Hollywood Bowl conductor, the gifted film composer Franz Waxman (1906–1967).
A rising composer and cinema orchestrator in his native Germany, Waxman had come to the United States with the first wave of artistic émigrés soon after the Nazi advent to power. How he and the famed Broadway and Hollywood songwriter Frank Loesser became involved in We Will Never Die is a story yet to be documented. Both men, however, received prominent credit in the Hollywood Bowl program, and Waxman's efforts in particular deserve wider recognition. His newly-added music—almost a stand-alone set piece—takes as its leitmotif "Deutschland über Alles," the Nazi anthem heard menacingly in many a film score of the day. The episode climaxes, amid a clamor of martial sound effects, with "The Hymn of the Ghetto;" somewhat incongruously, its melody was yet another transfiguration of the malevolent Teutonic theme.
Lyric Sheet for "The Battle Hymn of the Ghetto"
Audio 2: "Battle Hymn"
The End of the Pageant
The Los Angeles performance - the pageant's sixth - would also be its last. Just as Manhattan's Jewish intellectuals had rebuffed Hecht during the production's planning phase, so intramural conflict put a premature end to We Will Never Die. Hecht, seeking to publicize the pageant, had sought endorsements from Jewish organizations across the ideological spectrum, and to that end he had convened thirty-two "Jewish presidents, vice-presidents and secretaries" one afternoon at New York's Algonquin Hotel. He recalled in his autobiography:
I told my guests much the same things I had said to the thirty literary celebrities. Their eyes brightened and they straightened eagerly in their seats. I then read excerpts from the pageant, and Kurt Weill played the accompanying music on a piano. […]

No words I had ever written had ever been received with such love as beamed on me now. […]

I told my guests then that the pageant they had heard was going to be put on in Madison Square Garden, New York, and, thereafter, in a dozen other cities. We needed no money from any organizations present. […] All we wished of them was their approval. […] All we asked concretely of each organization present was as its name on our letterhead and the privilege of saying that all the Jewish organizations of New York were presenting the pageant. […]

I announced I would call the roll and asked that each official answer yes or no to the question.

The first two names I called answered in unhappy voices, "I pass." The third called was the secretary of the American Jewish Congress.

"I wish to know," he spoke up, "whether you are asking for my personal cooperation or the cooperation of my organization."

"I want the yes from your organization," I said.

The representative of the American Jewish Congress stood up, pointed a finger and cried out, "As an organization, we refuse to work with Morris Goldfarb! Never will the American Jewish Congress join up with anything in which the Arbeterring is involved!"

A man, possibly Morris Goldfarb, was on his feet yelling back, "And we will never work with the American Jewish Congress in a thousand years."
Hecht reports that he left the room "sickened" at "the spectacle of Jews comically belaboring each other in the worst hour of their history." xxii
During the period in question, factional passions within and among American Jewish groups may have been as much a matter of habit as ideology—a difficult habit (as Hecht observed) to break in a hurry. Yet Hecht also indicated that the leaders of these American Jewish organizations equivocated for much the same reason as the one he had previously spelled out in his tale of the Broadway notables. That is, many of them felt that publicly advocating for a so-called Jewish issue, especially in time of war, would compromise their status as "neutral Americans." Hecht places much of the blame for fostering the mind-set that closed down his show on Rabbi Stephen S. Wise, the influential leader of the American Jewish Congress. Wise had openly condemned We Will Never Die, and other groups followed suit, anxious to disassociate themselves from Bergson's band of radicals, fearful, however irrationally, of provoking "pogroms in the U.S.A." xxiii
Legacy
As Bergson and Hecht had anticipated, We Will Never Die captured the attention of the public and the press, and in the process unleashed a torrent of controversy. Was the show, then, a success? The question can be answered both unequivocally no, and conditionally yes. No, in that it clearly failed in its objective to establish an independent Jewish army to battle the Nazis and liberate Jews from their European deathtrap. Yet a positive outcome can also be argued from the fact that the Bergson Group's propaganda campaign tangibly affected U.S. policy toward rescuing Jews. The Holocaust historian (and Bergson biographer) Rafael Medoff has persuasively linked the production and promotion of We Will Never Die with President Roosevelt's decision, six months after the pageant's final performance, to create the War Refugee Board, specifically to "forestall the plan of the Nazis to exterminate all the Jews and other persecuted minorities in Europe." xxiv According to Medoff's findings, reported in a study of the Hecht-Weill show prepared for the U.S. Holocaust Memorial Museum,
The War Refugee Board's activities, which included financing the rescue work of Raoul Wallenberg, played a crucial role in saving the lives of more than 200,000 people during the final 15 months of the war. We Will Never Die helped set in motion the events that led to the saving of those lives. xxv
Posted August 10, 2010
------------
Grateful acknowledgement is due to the Ben Hecht authority and publisher Florice Whyte Kovan, whose extensive research for an unrealized U.S. Holocaust Memorial Museum web-based exhibition about We Will Never Die has contributed to the writing of this article.